EE893 / EE892
日期:2017-11-30 12:14:05
EE893 / EE892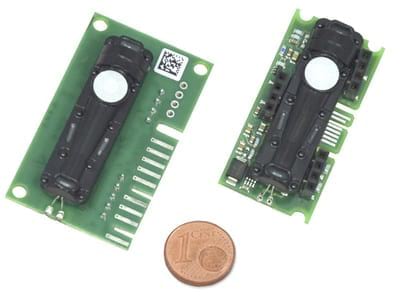 Miniature CO2 modules with digital interface
EE893 and EE892 operate on the dual wavelength NDIR principle, which stands for outstanding long term stability even in demanding environment.
A multiple point CO2 and temperature adjustment procedure leads to excellent CO2 measurement accuracy over the entire temperature working range.
With their low power consumption, miniature size and electrical connection via pluggable connector strips and edge card connector, EE893 and EE892 are the optimal plug-in modules for battery operated devices. They can be configured and adjusted by the user to match the requirements of most OEM applications.
Key features
Dual wavelength NDIR CO2 working principle
Measuring range up to 10,000ppm
Auto-calibration for excellent long term stability
Temperature compensation
Very low temperature dependency
High insensitivity to pollution Easy user configuration and adjustment
Very low current consumption down to 60 μA
Digital output
Miniature size
Typical Applications
data loggers
handhelds
wireless transmitters
building automation
demand controlled ventilation

Technical data

0...2000 ppm
0...5000 ppm
0...10000 ppm

Measuring range CO2

±(50 ppm +2% of mv)
±(50 ppm +3% of mv)
±(100 ppm +5% of mv)

Accuracy CO2

E2 interface

Digital output