E+E高精度微差压计EE610
日期:2019-7-10 7:42:50
Highly Accurate Low Differential Pressure Sensor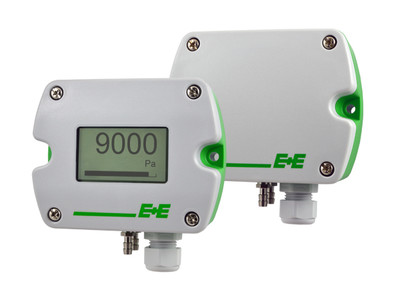 E+E差压变送器是专为暖通空调、自动化楼宇、洁净室和医院行业而研发的产品,是通风控制、空调系统、过滤器和洁净室监测应用中测量差压的理想选择。该系列产品不仅可以测量空气,同时也适用于非易燃和非腐蚀性气体的测量。
产品使用了压敏电阻式敏感元件,即使在测量微小的差压时也可保持卓越的长期稳定性。
With the EE610, E+E Elektronik offers a new sensor for low differential pressure up to ±100 Pa with an accuracy of ±0.5 Pa. Due to selectable measuring ranges and versatile configuration options, the EE610 is suitable for a variety of applications in air as well as in non-flammable and non-aggressive gases.
The EE610 is dedicated for medical, pharmaceutical and clean room applications. For instance, the sensor can measure the differential pressure between clean rooms, surgery rooms or isolation chambers. The non-flow through design excludes cross-contamination.
Selectable Measuring Ranges量程范围与精度
The EE610 enables unidirectional or bidirectional differential pressure measurement within a selectable measuring range of 0...100 Pa or ±25, ±50 and ±100 Pa. The long-term stable, piezo-resistive pressure sensing element provides a high accuracy of ±0.5 Pa
Analogue Output and Display输出信号与显示
The measured data is simultaneously available as current and voltage signals at the spring loaded terminals. The illuminated graphic display shows the reading in Pa, mbar, inch water column or mm H2O.
Fully Configurable 可以自由设定
The EE610 can be easily configured on site. Pressure range, time constant, output signal, display units and backlight can be set via DIP switches on the electronics board. The zero and span point adjustment can be performed with push buttons.
Easy Mounting 易于安装
The functional IP65 / NEMA 4 enclosure facilitates mounting the sensor with closed cover. This saves time and also protects the electronics from construction site pollution and mechanical damage during installation. For wiring the EE610 features both a cable gland and a knockout opening for a ½"conduit adapter.